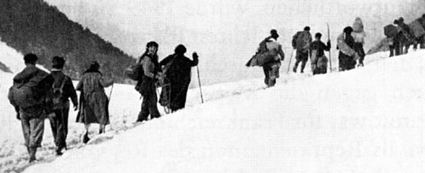 Completed! A Song for You, a film by Sharon Karp, is a personal narrative chronicling her parents' treacherous escape from the Nazis. In July 2008, family members and crew travelled to the Pyrenees to film their escape route from France to Spain. A second trip was organized to shoot locations found in a newly discovered map, hand-drawn by Sharon's father. A Song for You premiered at the Gene Siskel Film Center on Saturday, January 11, 2014 at 5 pm. The film chronicles Sharon Karp's parents' treacherous escape from the Nazis, crossing the Pyrenees with the help of the French Resistance. The film reveals the impact of the Holocaust on the next generation and celebrates the bravery of those who risked their own lives to save the family. For more information, visit our dedicated web site, A Song For You.

.........................
recent: Trifone, is a documentary about Thomas Kapsalis, one of Chicago's great abstract painters, who has been an important artist and educator since the late '40s, when he graduated from the School of the Art Institute. Producer/director Michele Feder-Nadoff. For more information, contact Cuentos Foundation.

Thomas Kapsalis
Chart 4
1977
oil on canvas
20" x 10"
and

.........................

recent: Picture Man: The Poetry of Photographer Milton Rogovin, the social documentarian who for nearly forty years photographed people around the world, focusing on men and women at work. Continuing in the tradition of masters such as Dorothea Lange, Rogovin's portraits of workers include universal images of women and minorities, subjects that are frequently overlooked and underrepresented. Milton is turning 100 years old in December 2009. For more information, visit Milton's web site.

Photo by Milton Rogovin
.........................

recenT: Never Turning Back:
the World of Peggy Lipschutz,
completed Fall 2008, premiered at the Unity Church in Chicago in October. This successful event was followed by a public celebration of Peggy's 90th birthday at the Old Town School of Folk Music in December. The film won the Cine Golden Eagle award in 2009.

Self-portrait by Peggy Lipschultz
and